Cudi's 'Entergalactic' on Bringing the Project to Life
KARLA RODRIGUEZ
Staff Writer, Pop Culture. @ohkarli_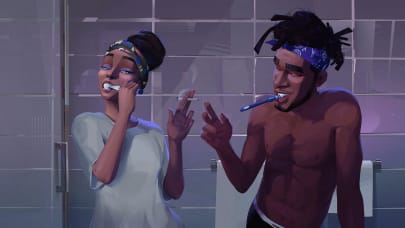 Kid Cudi's artistry has been in a constant state of evolution through the years.
The musician, born Scott Mescudi, is now entering a new space in his career with his latest project Entergalactic. Mescudi had a vision of releasing his eighth studio album with a visual component that would be inspired by the songs, and he used the 15 tracks as inspiration to create an adult animated special by the same name also arriving on Netflix on Friday (Sept. 30).
Mescudi tapped Kenya Barris to join as executive producer on the TV special, and while at first it was announced that Entergalactic would be an episodic series, it ended up as a 90-minute story about love. Entergalactic is a modern take on a romantic comedy that attempts to portray what the dating world is like in New York City in the age of technology. With its bold colors, stunning animation, and charming performances from the cast, the story unfolds into a fun, fresh look at what it is like to connect with and fall in love with someone when you least expect it.
Mescudi stars as Jabari, a cartoonist who is on the brink of major success after landing a dream gig at a comics company to bring to life a popular character from his street art called Mr. Rager (Keith David)—inspired by the rapper's song of the same name from his 2010 album Man on the Moon II: The Legend of Mr. Rager. It is also one of the many Easter eggs from Cudi's career sprinkled throughout the special. Jabari's career and life are taking off, and after a short-lived rebound with his ex Carmen (Laura Harrier), he swears he is not in the space to be in a serious relationship. That is until he moves into his dream NYC loft where he meets a neighbor named Meadow (Jessica Williams), an endearing, down-to-earth photographer, who flips his world upside down.
The sequences of Jabari and Meadow getting to know each other and falling for one other are simply stunning. The vibrancy of the colors and accuracy of the animations—the animated characters' features are inspired by the real-life actors who portray them—are a highlight of the TV special. As their story unfolds, viewers are led into different chapters in Jabari's life that are precisely and beautifully scored with the songs from the new album. This creative endeavor was all born from Mescudi but he partnered with people in his circle and others he had collaborated with in the past to bring it to life. He worked on the music first to inform the script that he wrote alongside Maurice Williams and Ian Edelman, whom he had previously worked with in 2010 on the cult favorite HBO series How to Make It in America.
Complex chatted with Edelman at the Entergalactic premiere in NYC, and he said Mescudi came into it with a precise vision. "He came with so much of the album done and the songs were landmarks to write to and he had the vision mostly fully baked in his head," Edelman tells Complex. "He truly is a visionary. He knows what he wants and he knows what he likes. He's also open to collaboration. He's open to things and ideas and it was really mostly formed and we helped him flesh it out and then obviously write big characters together and tell a story. But he knew it was a love story. He knew it was New York City. And those are two things that when done right really become special."
For a creative like Mescudi, working with a team that understands the end goal is key, so working with people he's familiar with helped. "It was so fun. It was like coming home. That's my guy," Edelman said about teaming up with him again. "Cudi and I go way back. I met him at a club when he still worked at the BAPE store. We have a very special relationship. I've been fortunate enough to watch him become the superstar that he is. So working with him is like a dream, literally. And also I think we just had that shorthand and we know each other and I know what he likes so it's great."
Mescudi also tapped his longtime friend Virgil Abloh to design the characters' wardrobes for the animated special. They all have their own distinct styles and wear different ensembles throughout, unlike other cartoon characters who have permanent uniforms. The special is a heartfelt tribute to Abloh, who died in November 2021, and odes to him can be found throughout the entire project. Both the album and the visuals were released on what would've been the fashion designer's 42nd birthday and Mescudi also wore a Wizard of Oz-inspired jacket from Abloh's first Louis Vuitton collection to the Netflix special's premiere.

Complex News caught up with Mescudi during the press junket for the special, and he spoke on the impact the designer had on him. "One of the things that was always amazing to watch when I was around Virgil is his attention to detail and how he just cared about everything, every little detail and he was so thoughtful with everything he did. That's something that I kept in mind going into this," Mescudi says. "Watching Virgil just really heightened my whole shit about being an artist and being a creator. Throughout the years of knowing him and seeing him in the studio and in front of his laptop just designing shit for hours and not moving, to him doing this shit for Louis Vuitton, it was so inspiring. Here's a man who DJs, has two clothing lines, is running the world, he's got a family, he's got all these things going on, and every time I saw him he did not ever seem stressed. He seemed like he had it all fucking figured out."
The rapper added: "That inspired me because I get stressed and people can see me and read it on my face. Virgil was dealing with some really gnarly shit for a couple of years and you could not tell. It just says a lot about his strength and the type of man he is. He was such a loving man and I'm just thankful that I had him in my life when I did and I will continue to praise him and honor him as long as I live."
Mescudi made Entergalactic a collaborative process between him and his friends. He became good friends with Barris after the rapper agreed to speak at the producer's daughter's school. That was the moment Barris realized the influence Mescudi had on his fans and that's when they decided they wanted to work together on a project like Entergalactic. "We started off thinking that maybe we wanted to do live-action. I give a lot of credit to Mike Moon and Elizabeth Porter who are executives at Netflix and talked to us about how when music and animation come together how it can live forever," Barris told Complex News during the press junket. "They gave some examples from Heavy Metal to Bambi to Moana. We realized that it would not limit where we could go. We really were interested in using New York as a character and we were able to do that in a way that looks and feels so proprietary; I think we made the right decision."
The Black-ish creator tells Complex that even though the story centers around the two Black main characters, this isn't particularly a "Black story" but it's more so "contemporary-urban" and it includes people from all different walks of life. "We did something that felt unique and in the zeitgeist of where we're at today and talking about a contemporary young love story in a way with characters that you don't really get to see do those love stories and doing it through animation and making sure that the music, which is not a soundtrack, is a complement to each episode. When you coalesce those into something it becomes an immersive piece of art and that's what we wanted to do."